1156 Main Street, Unit B
Watertown, CT 06795
Across from Watertown Plaza

(860) 417-2236
Open Today Until 3:00 pm
| | |
| --- | --- |
| Monday | 10:00 am - 6:00 pm |
| Tuesday | 10:00 am - 6:00 pm |
| Wednesday | 10:00 am - 6:00 pm |
| Thursday | 10:00 am - 6:00 pm |
| Friday | 10:00 am - 6:00 pm |
| Saturday | 10:00 am - 5:00 pm |
| Sunday | 10:00 am - 3:00 pm |
Michele & Kirk Sanford Franchise Store Owners
View Our Store Site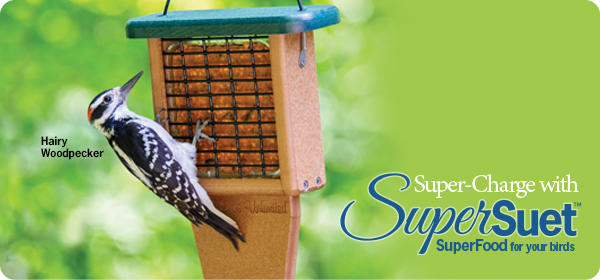 SuperSuet™ - Highest in Protein and Fat to Support the Birds' Nutritional Needs
For the birds in your backyard, suet equals energy! This high-fat, high-calorie food is a favorite of many insect-eating birds, including woodpeckers, chickadees and nuthatches.
Now you can provide the very best with SuperSuet™ exclusively from Wild Birds Unlimited. It's our highest in protein and fat to support the birds' nutritional needs and give them a boost of the energy they need to make it though the day.
Shop our store to learn what makes our SuperSuets a super-food for your birds. And how you can attract more beautiful birds to your backyard.
$10 OFF $50*Offer for in-store only.
FREE 5 lb Bag of our No-Mess Blend with any Online Order of $25.00 of more! Shop now.. mywbu.com\watertown
Offers valid 1/14/20 thru 1/31/20.
---